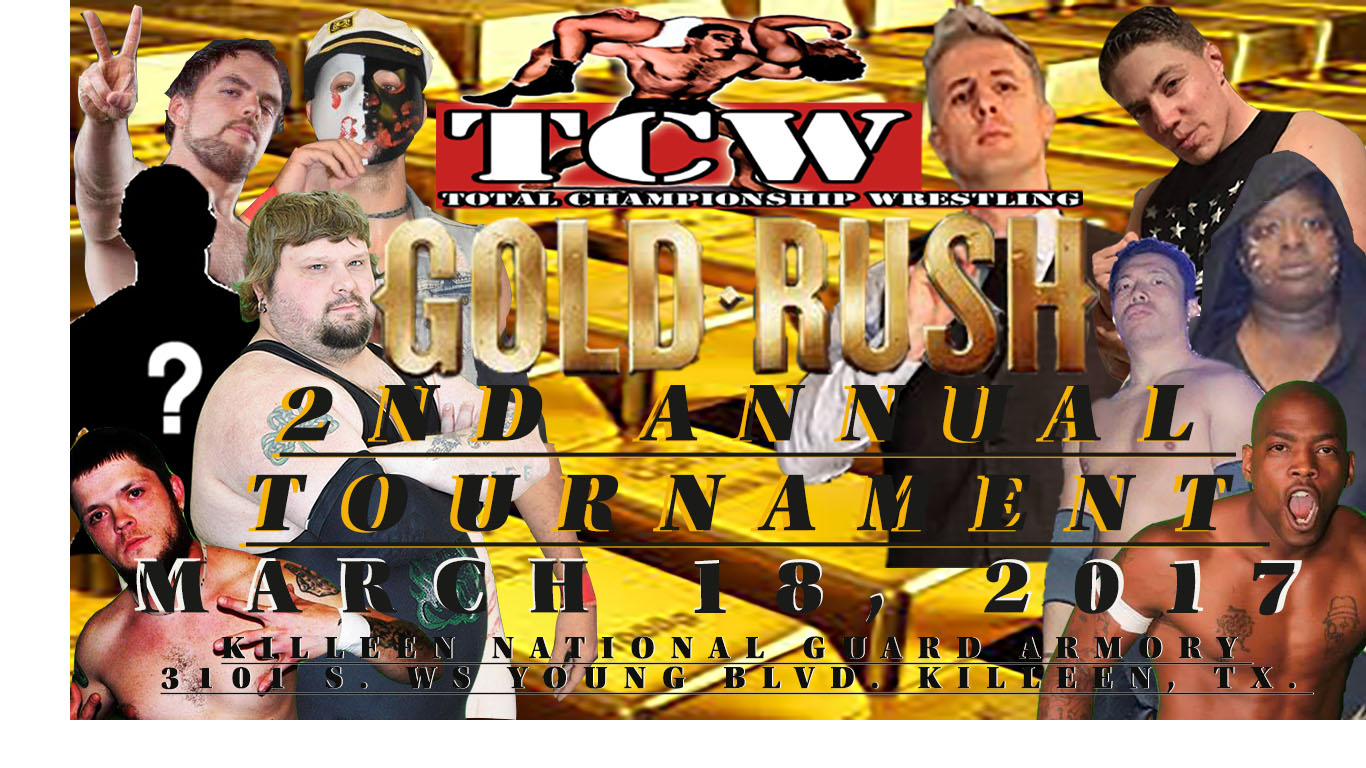 March 18, 2017 10 Wrestlers fight to be the 2nd Annual TCW GOLD RUSH Tournament Champion and take home the trophy! Tickets for this event go on sale Feb. 27 at 9am cst. Blank brackets will be available at the TCW Slammin show Feb. 25, and March 3 at 6pm tune in to the Mr.B "You are a damn fool show" on Heel/Face Wrestling fb page for "SELECTION FRIDAY" to see who will face who in the Gold Rush Tournament!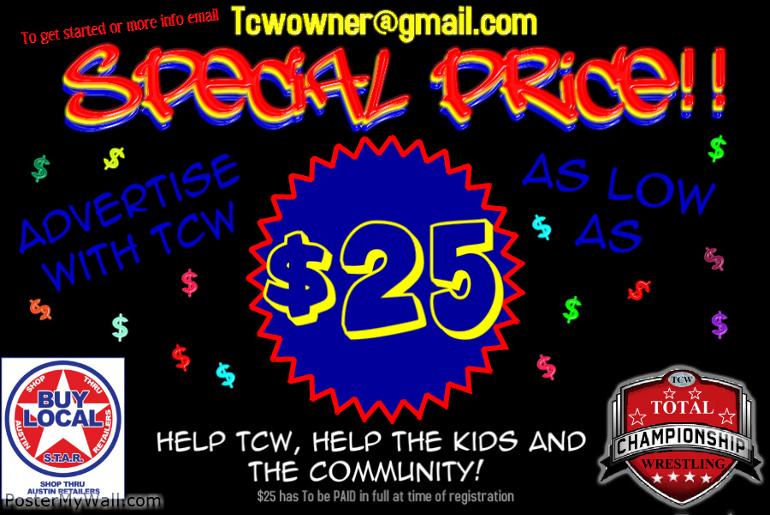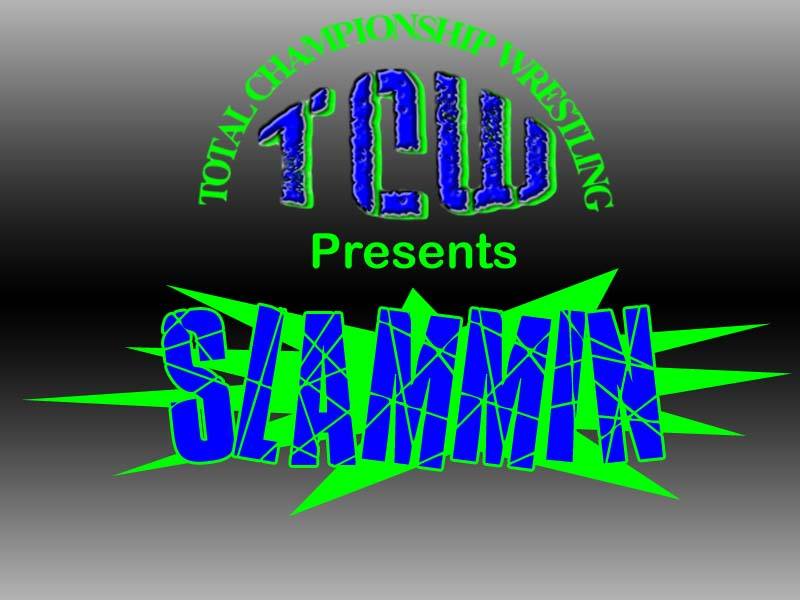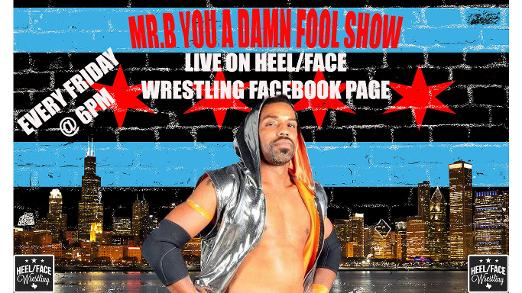 SHOW RESULTS
slammin
dark match
"big Time" Reggie vs evren orion
winner: evren orion
main show matches
mARCUS ROSE vs tYLER JETT
winner: tYLER JETT
sTRONG STEEL(KENNY STEEL & TONY STRONG) Vs BRYSIN SCOTT & RICHARD REASON
Winner: STRONG STEEL
SKY DE LACRIMOSA vs TERRALE TEMPO
winner: TERRALE TEMPO
"THE MILF" SIMPLY LUSCIOUS vs DALILAH DOOM
winner: sIMPLY LUSCIOUS
TCW TELEVISION CHAMPIONSHIP MATCH
RIQUE JACKSON vs JUST WILLIE(c)
winner: JUST WILLIE
RAY ORTIZ vs RUTHLESS LALA
winner: RUTHLESS LALA
JOHNNY AXXEL & DARIN CHILDS vs DFW CONNECTION(PRETTY BOY JAY & HOOLIGAN ACE) W/ MARCUS ROSE
winner: dFW CONNECTION W/ MARCUS ROSE
TCW CHAMPIONSHIP FALLS COUNT ANYWHERE MATCH
"CHI-TOWNS FINEST" MR. B(c) vs "LEADER OF THE ARROW CLUB" KYLE HAWK
winner: kYLE HAWK
WRESTLE WARZ 6 (4-23-16)
3-TEAM ELIMINATION TCW TAG TEAM CHAMPIONSHIP
STRONG STEEL(KENNY STEEL & TONY STRONG) vs DFW CONNECTION (PRETTY BOY JAY & HOOLIGAN ACE) W/ MARCUS ROSE vs LOST SOULZ(c)(MUERTE & SKY DELACRIMOSA) W/ MGR PACO ESCOBAR
WINNER: LOST SOULZ BY PINFALL
SIX MAN ELIMINATION MATCH (WINNER GET'S TITLE SHOT OF THEIR CHOICE)
JOHNNY AXXEL vs DARIN CHILDS vs STEVE 'O RENO vs MIKEY 13 vs MARCUS ROSE vs TAYLOR JETT
WINNER: JOHNNY AXXEL BY PINFALL *After the match Johnny Axxel chooses to go after TCW Tag Team Championship and picks Darin Childs as his tag team partner!
MIX TAG TEAM MATCH
"MR. STUDTACULAR" BRYSIN SCOTT & "THE MILF" SIMPLY LUSCIOUS vs JACK JAMESON & RUTHLESS LALA
WINNER: BRYSIN SCOTT & SIMPLY LUSCIOUS
RIQUE JACKSON vs TERRALE TEMPO
WINNER: RIQUE JACKSON BY PINFALL
3-WAY TCW TELEVISION CHAMPIONSHIP MATCH
EL FANTASTICO vs KYLE HAWK vs JUST WILLIE(c)
WINNER: JUST WILLIE BY PINFALL
TCW CHAMPIONSHIP MATCH
CHARLIE HAAS vs. "CHI-TOWNS FINEST" MR.B(c)
WINNER: MR.B BY PINFALL *Kyle Hawk came in after the match and attack Mr.B. Mr.B then challenged Kyle Hawk to a falls count anywhere match at the first TCW SLAMMIN show!
Naughty or Nice show (12-12-15)
Show opens with the current TCW Heavyweight Champion Mr.B talking about his match against Candy Man and Tony Strong, but then out comes Johnny Axxle and says Mr.B is not the true heavyweight champion and then deserves his rematch. Mr.B then put Johnny Axxle in the #1 contenders match for the TCW heavyweight championship versus Killah Kash and Johnny Swole.
#1 Contender TCW TV Title Elimination Match
Donnie Giovanni vs Kody Krash vs Richard Reason vs Jay Williams vs Ruthless Lala
Winner and #1 TV Contender Donnie Giovanni (Kyle Hawk jump Donnie Giovanni after the match)
Jason Silver def. Zach Taylor by pin fall
TCW Tag Team Championship Match
Lost Soulz w/Diamantina (c) def. Show Money
TCW Heavyweight #1 Contender 3 way Match
Killah Kash vs Johnny Swole vs Johnny Axxle
Winner and #1 Contender Killah Kash
TCW Television Championship Match
Kyle Hawk(c) def. Bolt Brady by DQ due to outside interference by Donnie Giovanni
JULY 25, 2015
TCW TV Championship
Brysin Scott vs (c)Kyle Hawk
winner: Kyle Hawk via pinfall
Allie Kat & Comrade Silovic vs Donnie Giovanni & Laynie Luck
winners: Laynie luck & Donnie Giovanni via pinfall
Quentin Lynch vs Ka$h Money
winner: Ka$h Money via pinfall
Vacant TCW Tag Team Championship
Lost Souls (Muerte & Sky De Lacrimosa) vs Richard Reason & Kody Crash
winners: Lost Souls via pinfall
Tony Strong vs Total Pimp
winner: Tony Strong via pinfall
TCW Heavyweight Championship
(c)"Chi-Towns Finest" Mr. B vs "Dirty" Andy Dalton
winner: Mr. B via DQ
Main Event
Ruthless Lala vs Awesome Kong
Winner: Awesome Kong via pinfall


APRIL 26, 2014
Simply Luscious def. TCW Woman's Champion Zane Xena in a Non-Title Match
The Corner(Total Pimp & Ruthless Lala) def. The Bad Boyz to advance in the mini TCW Tag Team Tournament
Mikey 13 def. Virus
Ray Ortiz def. Virus
Mr.B & Virus def Mikey 13 & Ray Ortiz
Mr. ATL def. Comandante Marcos in Lucha action
Kyle Hawk def. Jeff Gant to win New TCW Television Championship after Brysin Scott No Showed
TCW Heavyweight Champion Johnny Axxle def. Darin Childs in No DQ Match
Sammy Guevara def. Seph Anunnaki to become the New TCW Crusierweight Champion
May 24, 2014
Kash Money def. Total Pimp
Mikey 13 was pinned by Kenny Steele, who was pinned by Dylan Dunbar, who was pinned by Kyle Hawk to remain TCW TV Champion.

*Brysin Scott came out and attacked Kyle Hawk and made a challenged to him for a winner take all Ladder Match at Independence Brawl 7
American Eagle def The Holes in a Handicap 2 on 1 match
Nemises was def by Brysin Scott to remain the self proclaimed real TCW TV Champion
Simply Luscious def Ruthless Lala in a NO DQ match for the #1 contender ship for the woman's championship

* Ruthless was then attacked by someone named the Angle of Wrath
Donny Brookes def Tadasuke in the main event