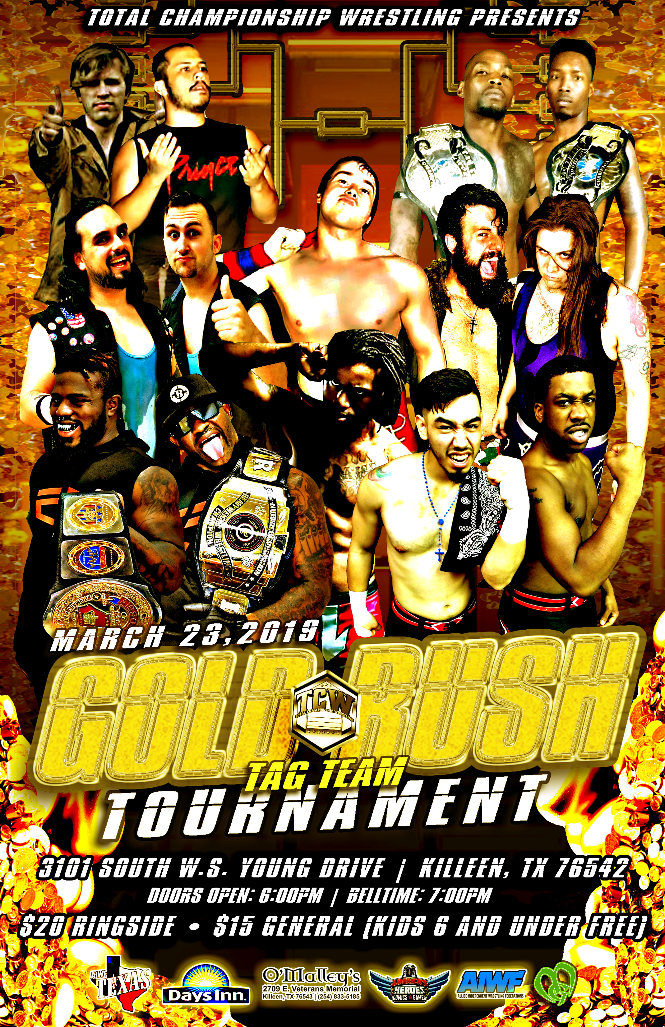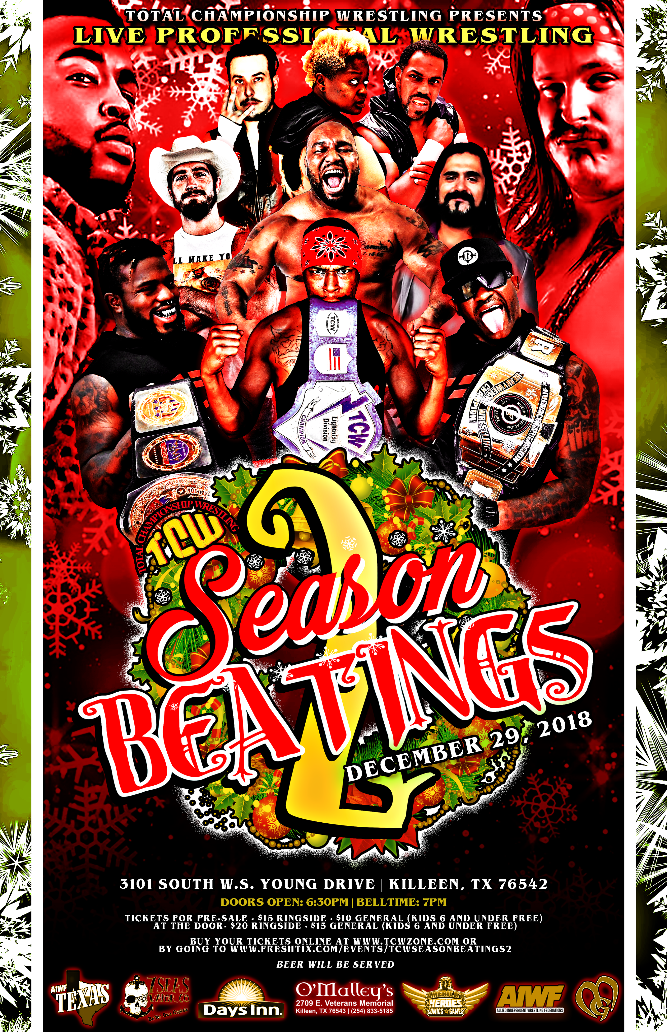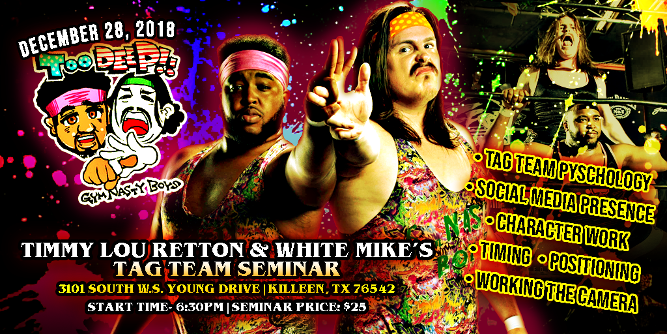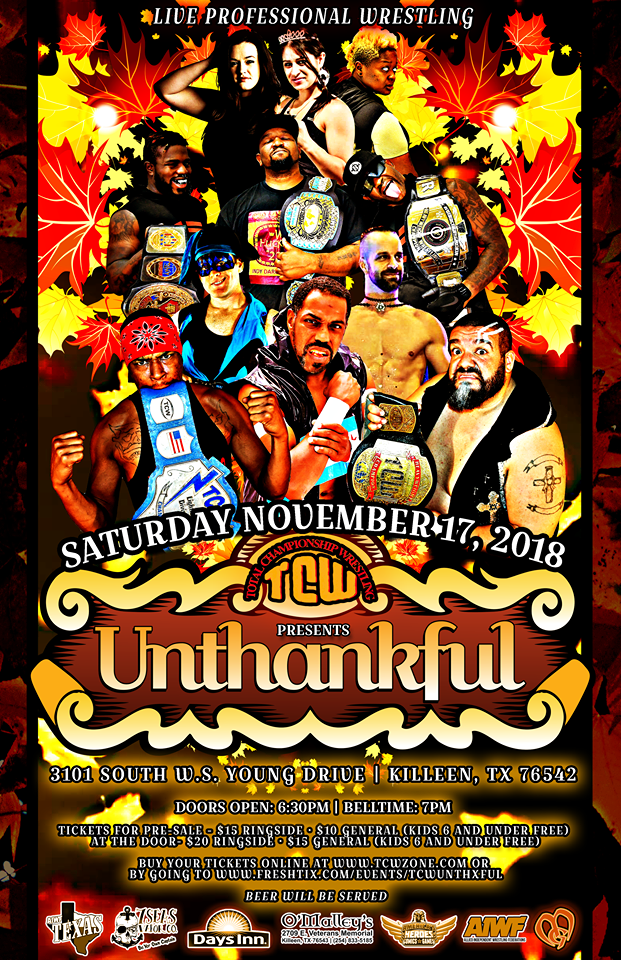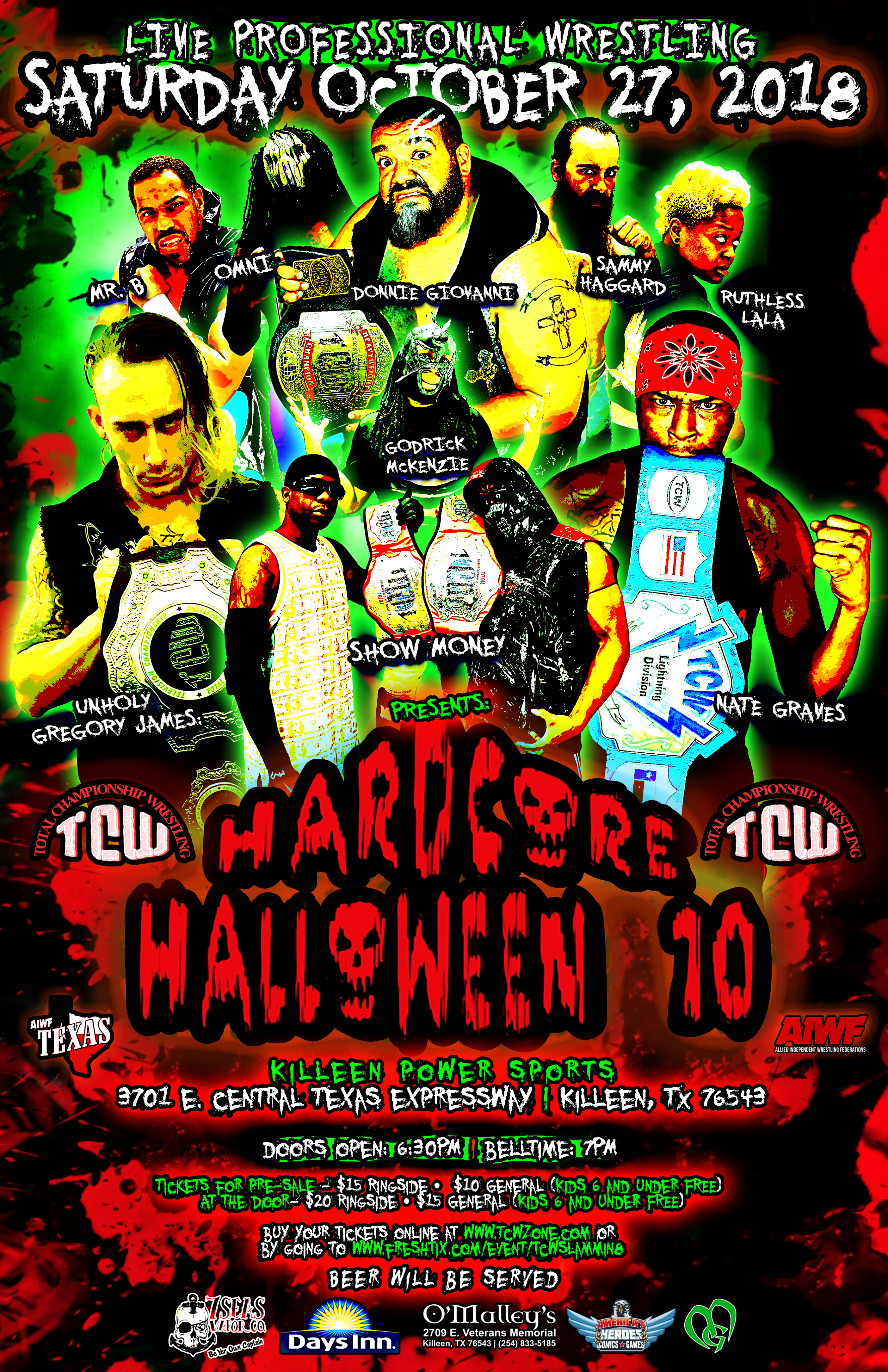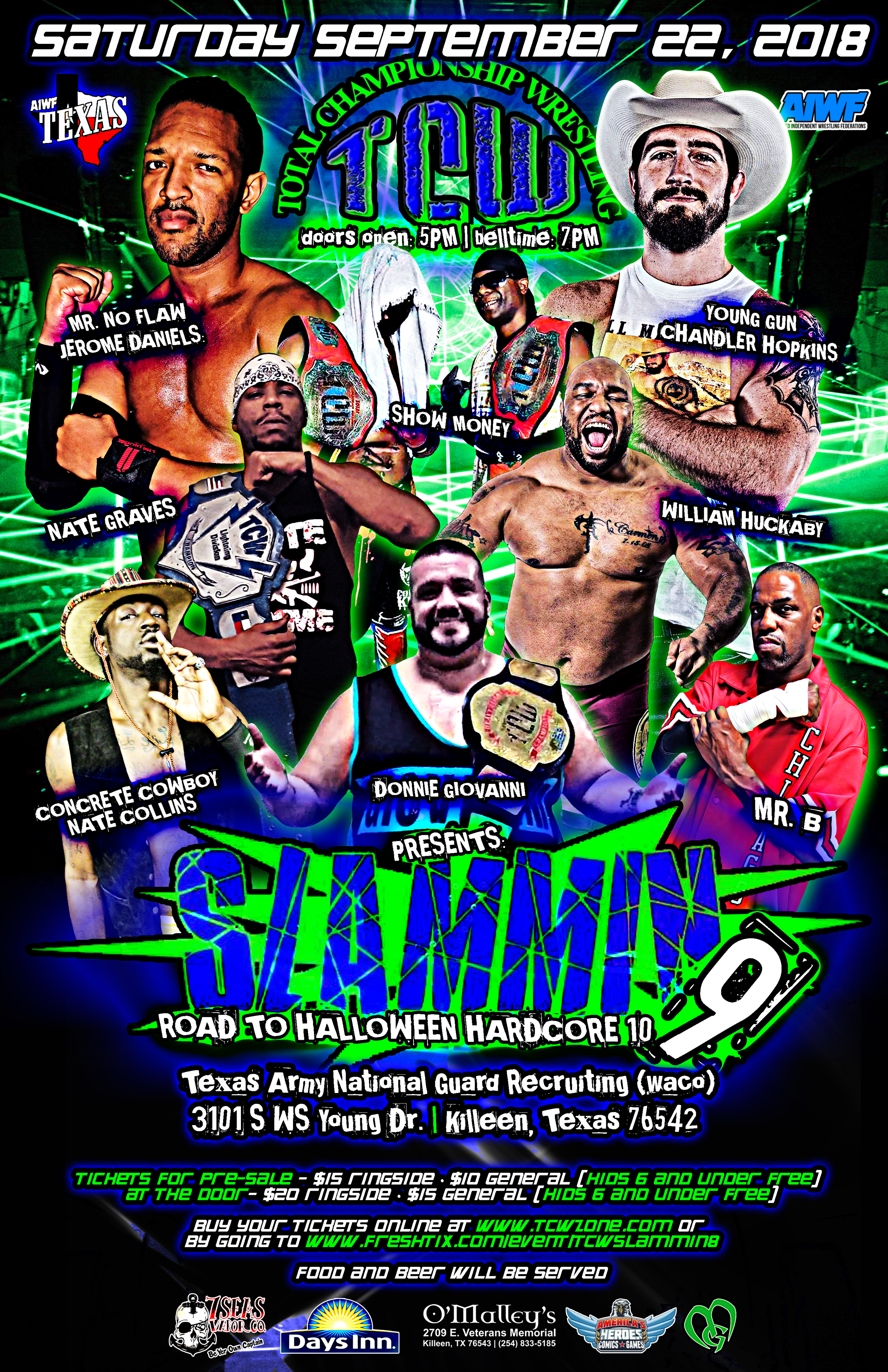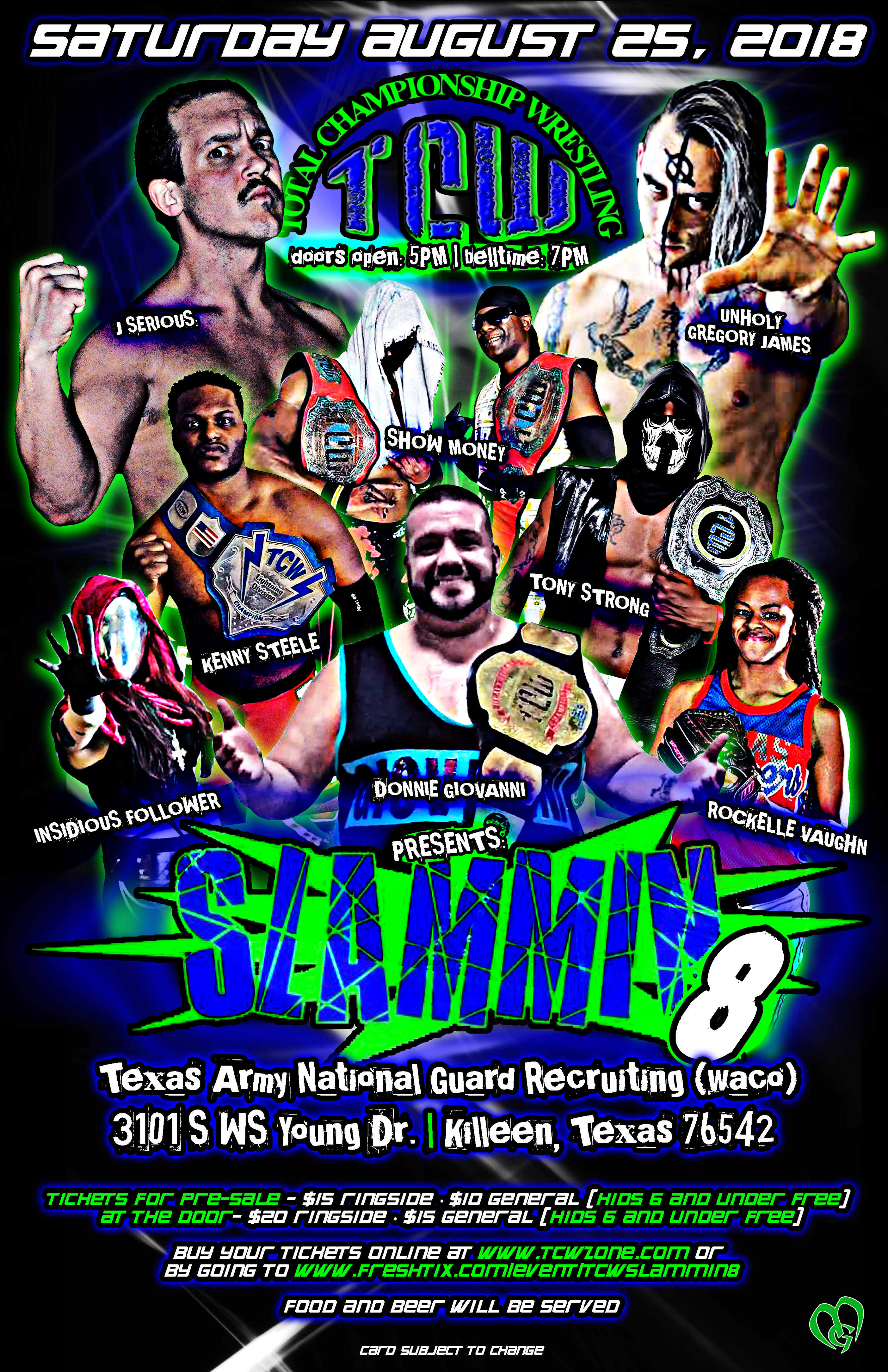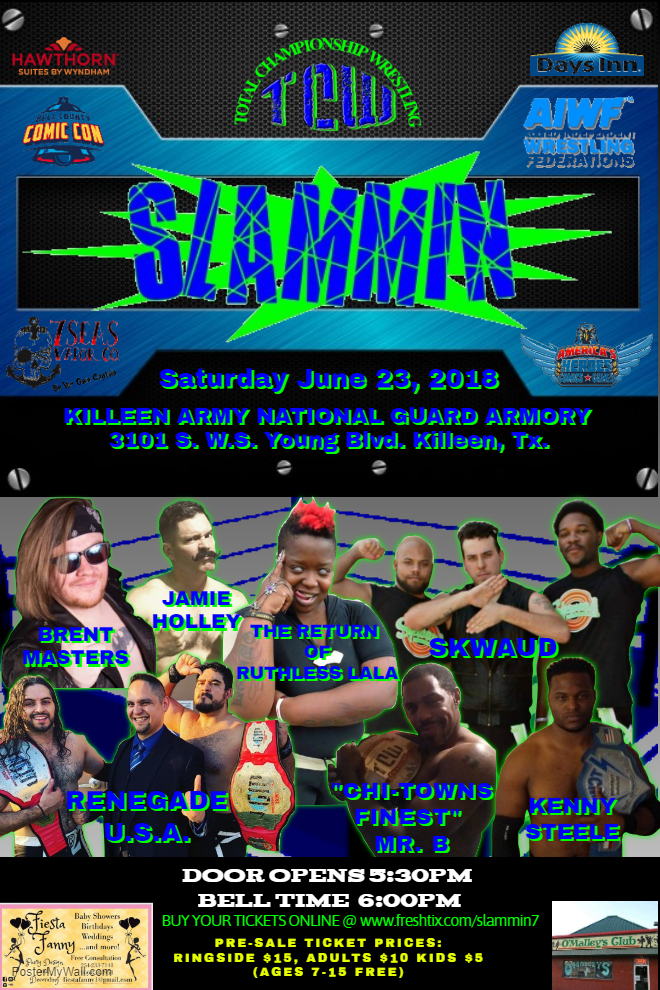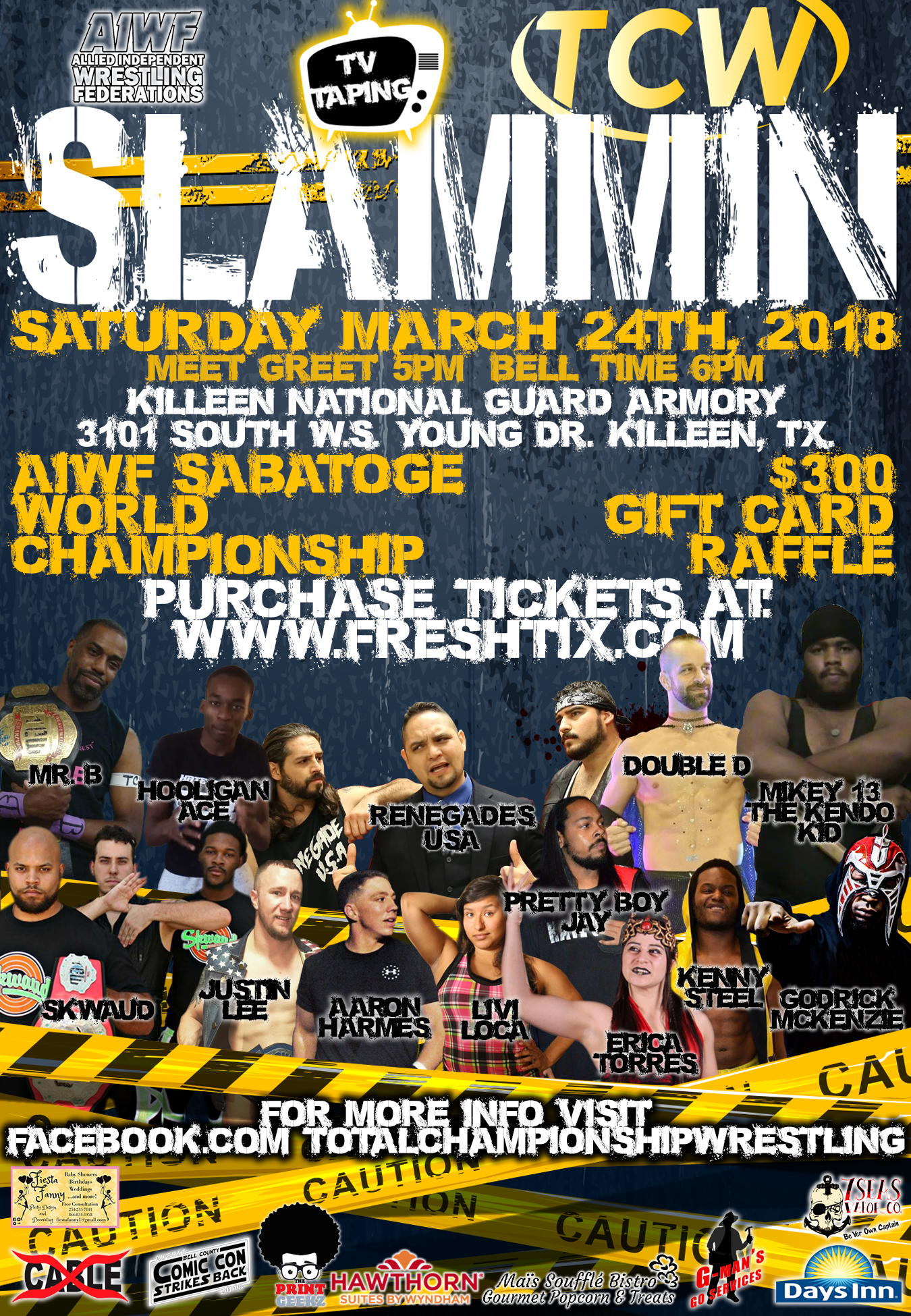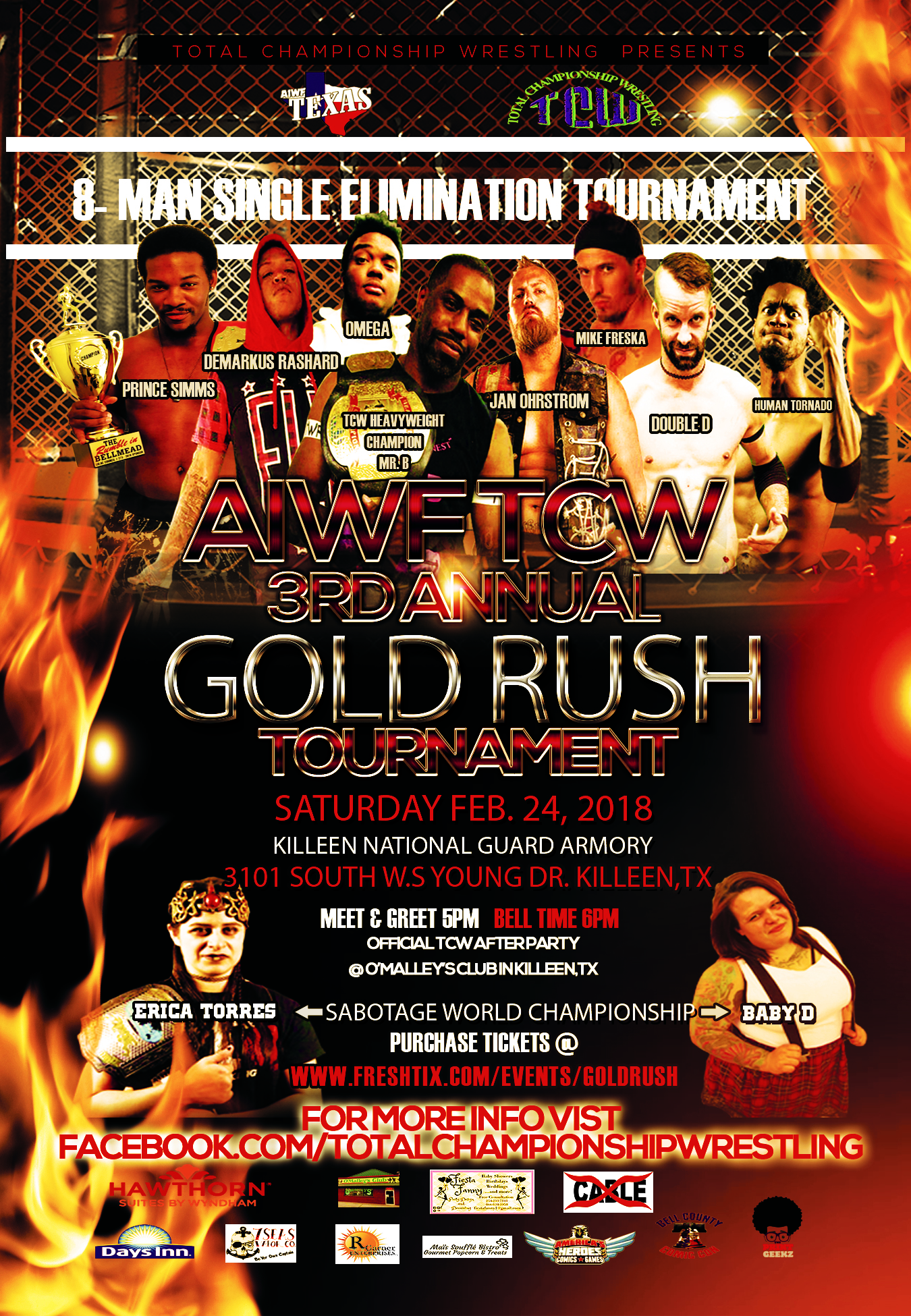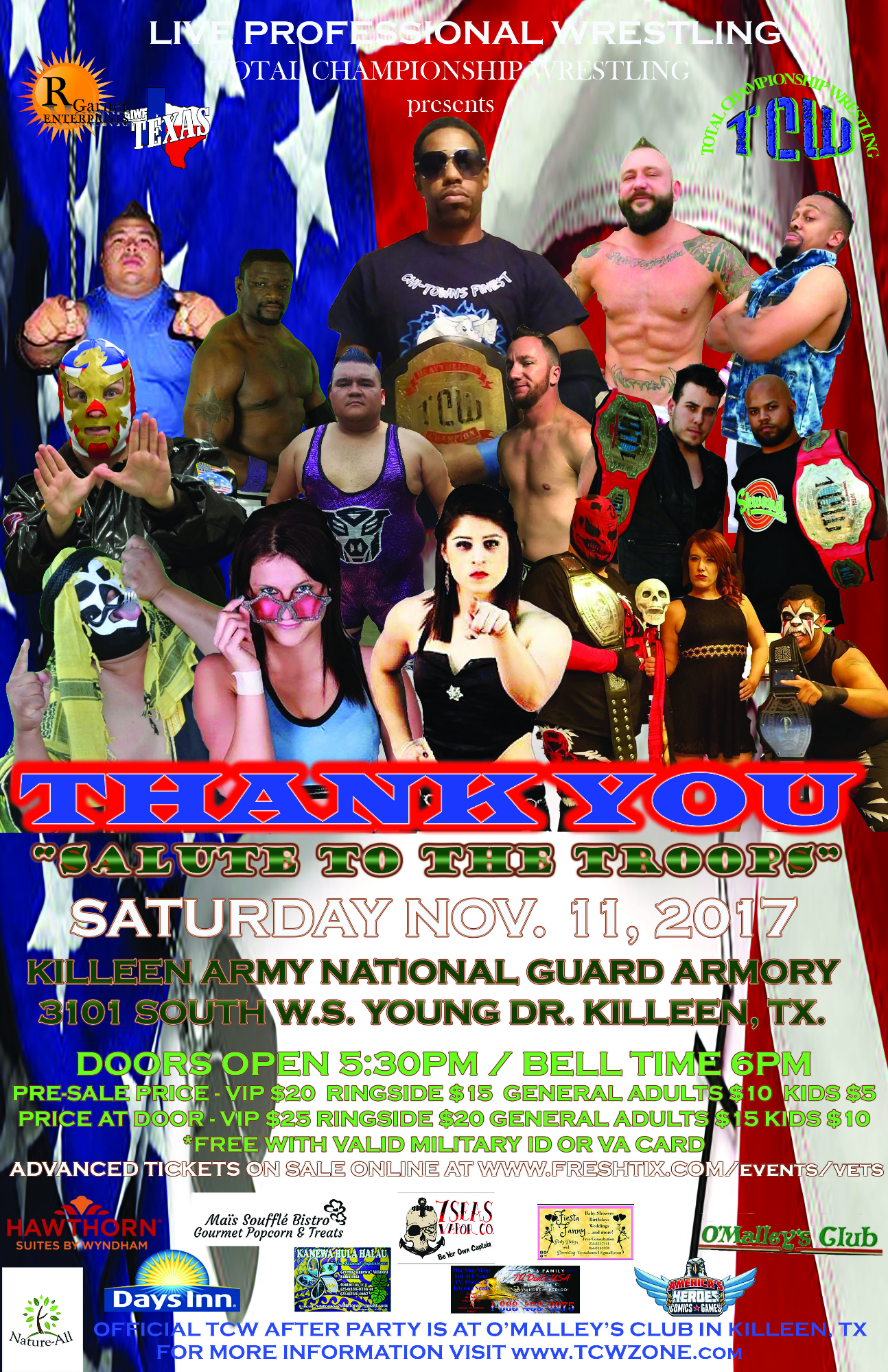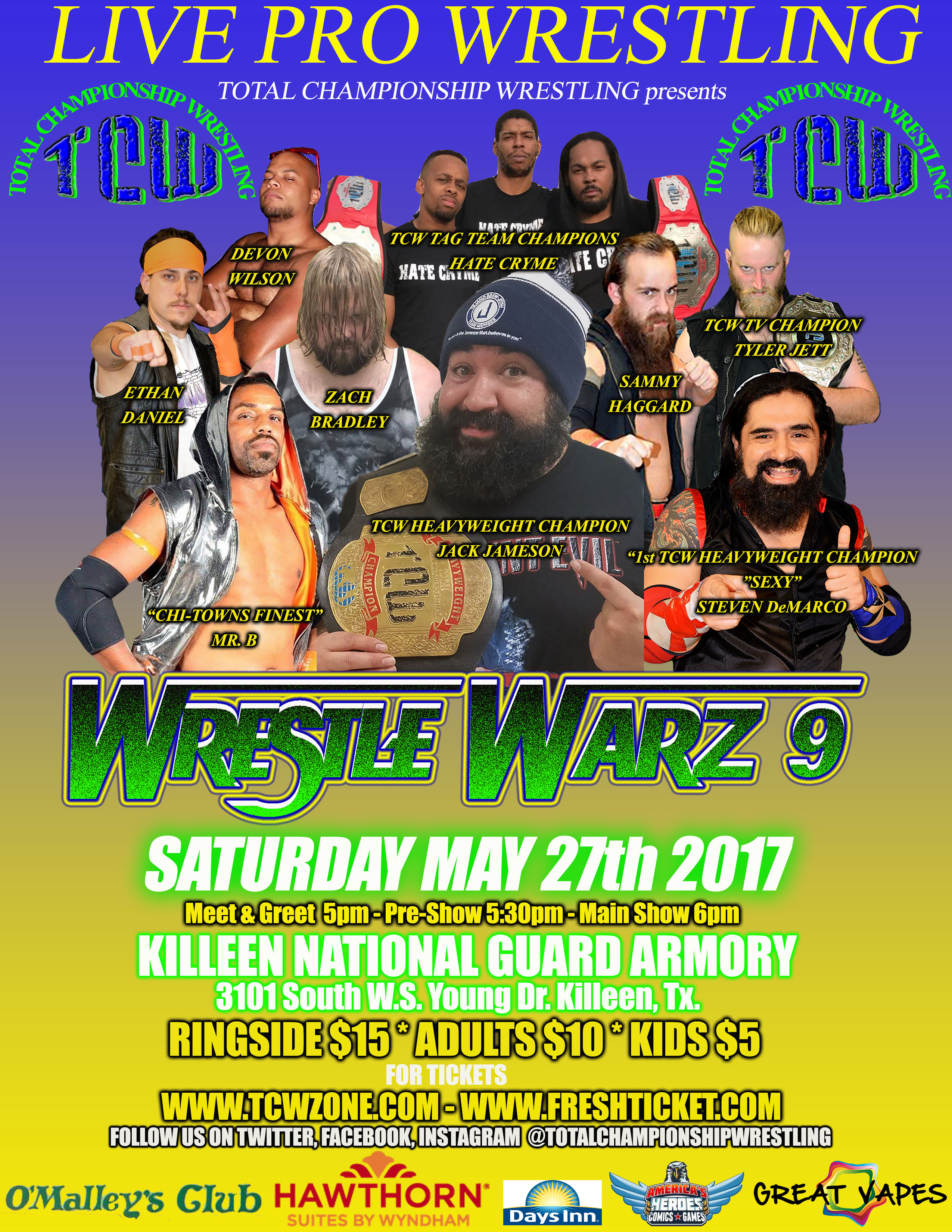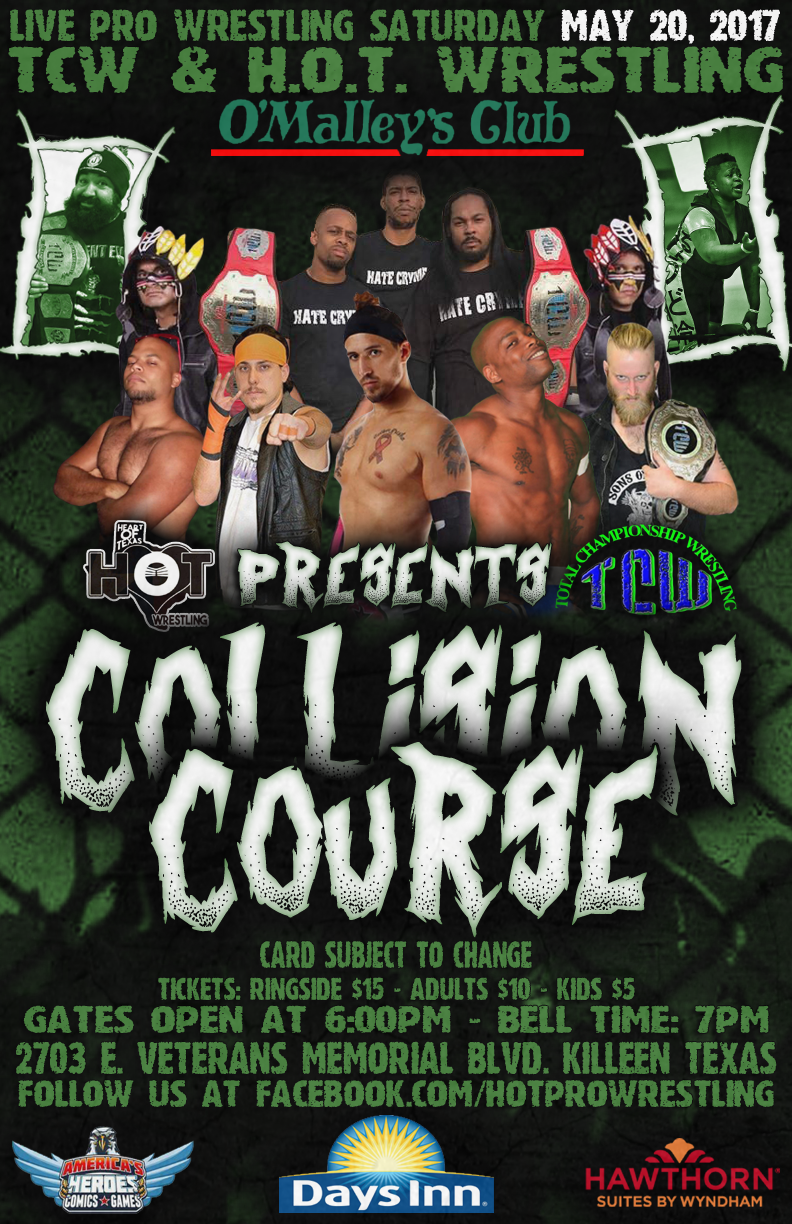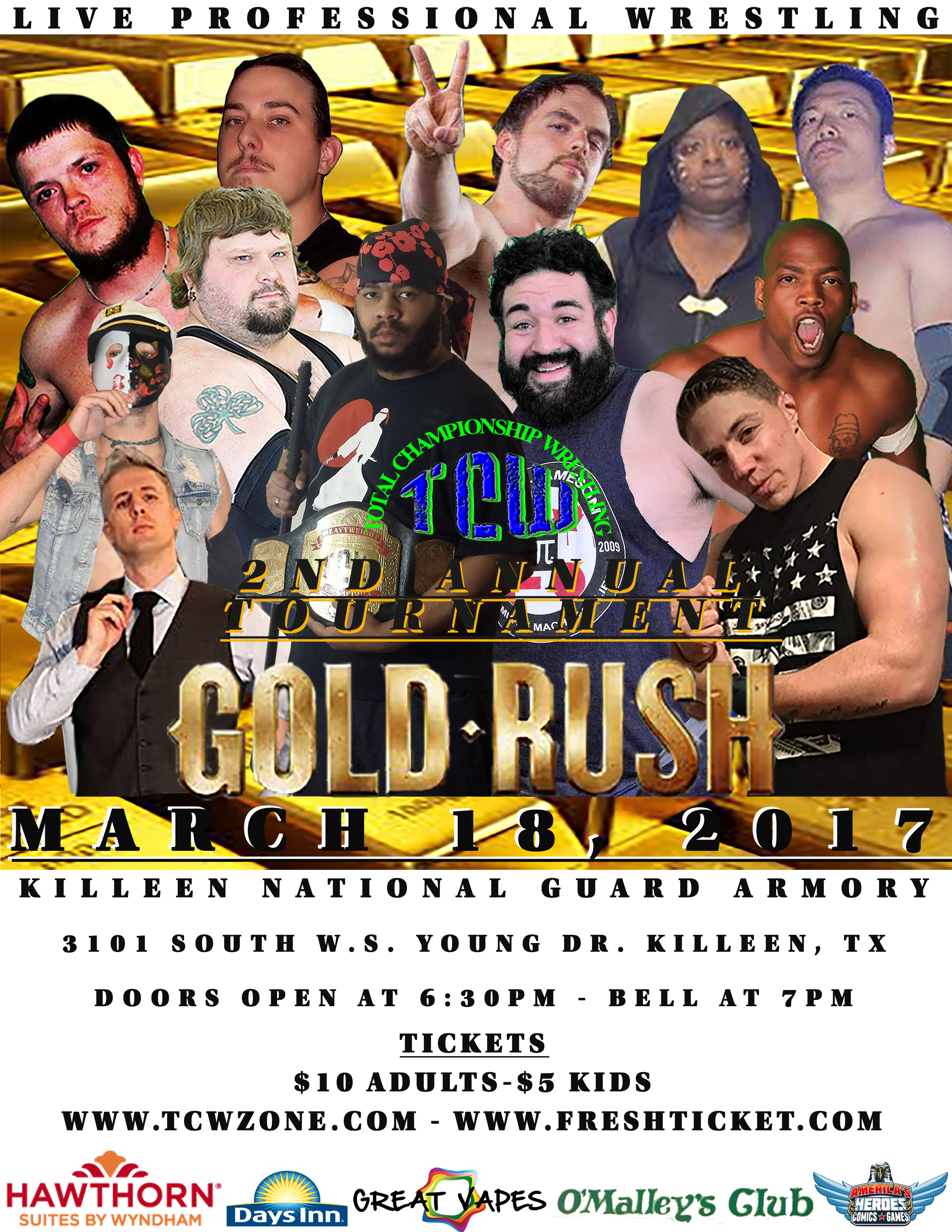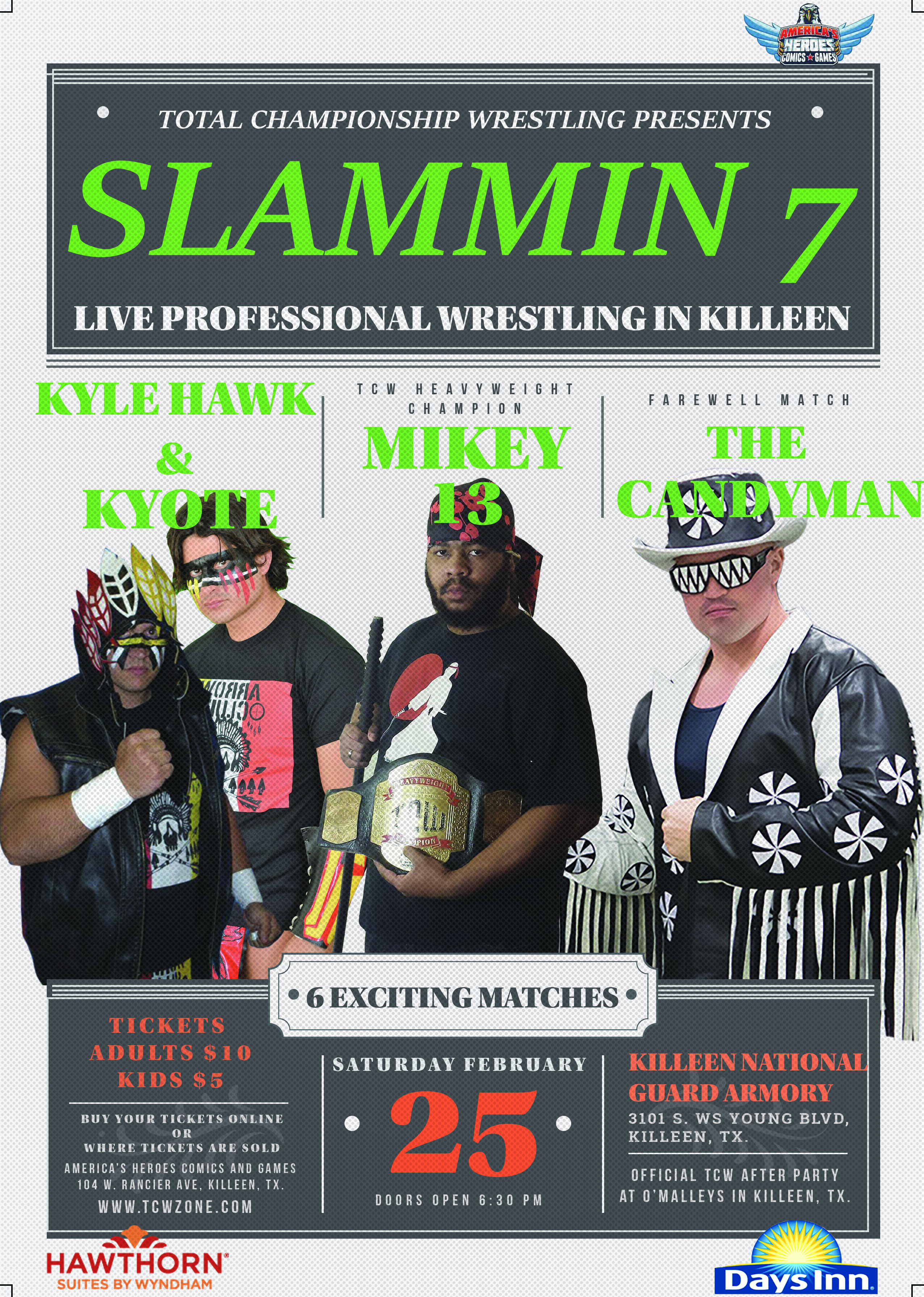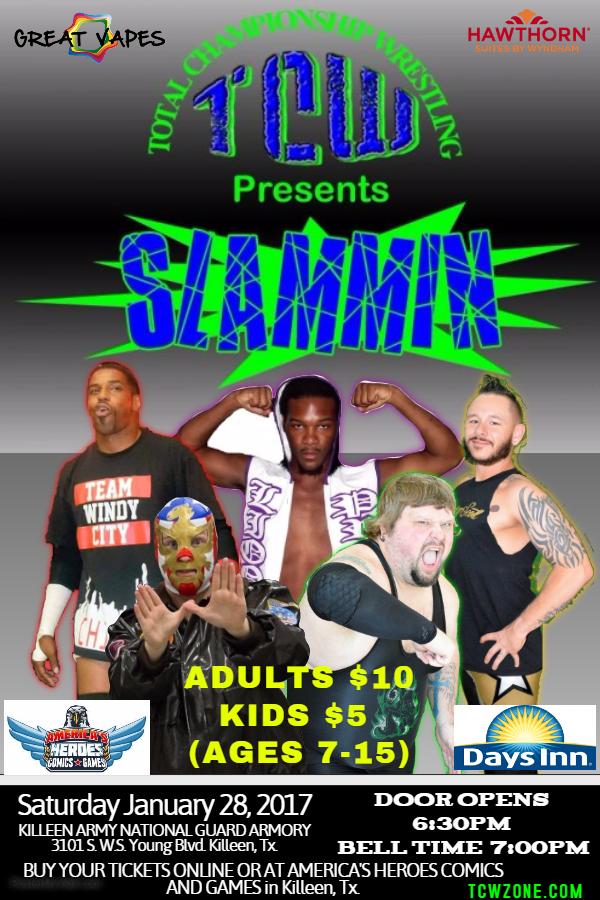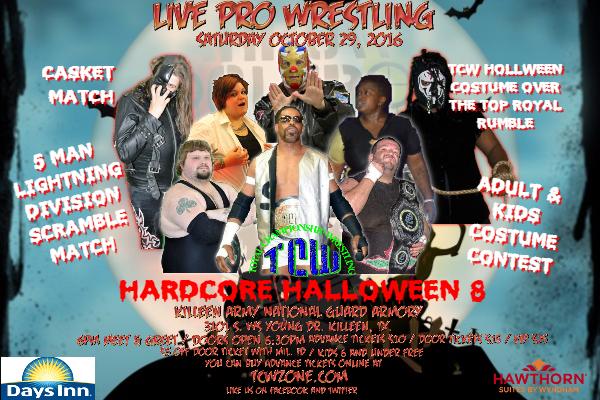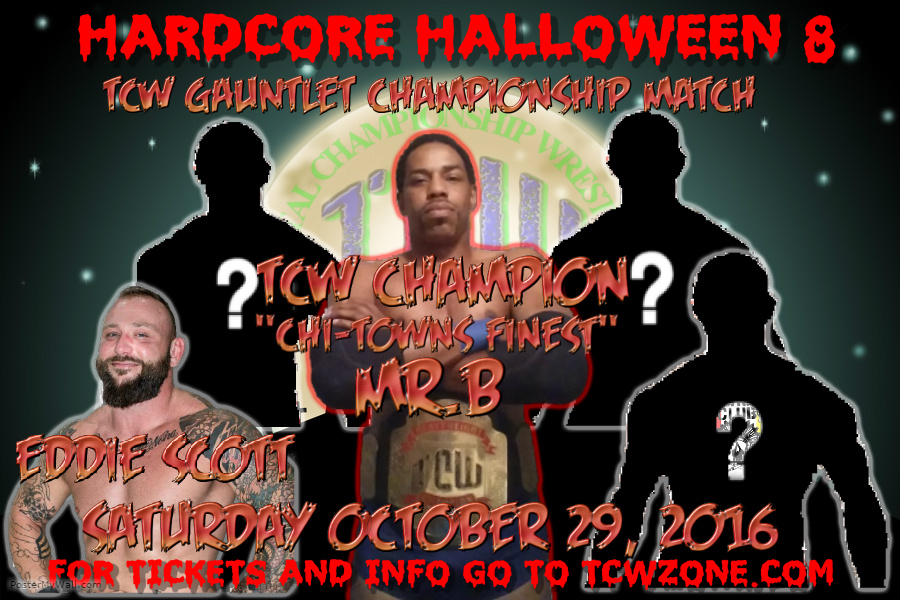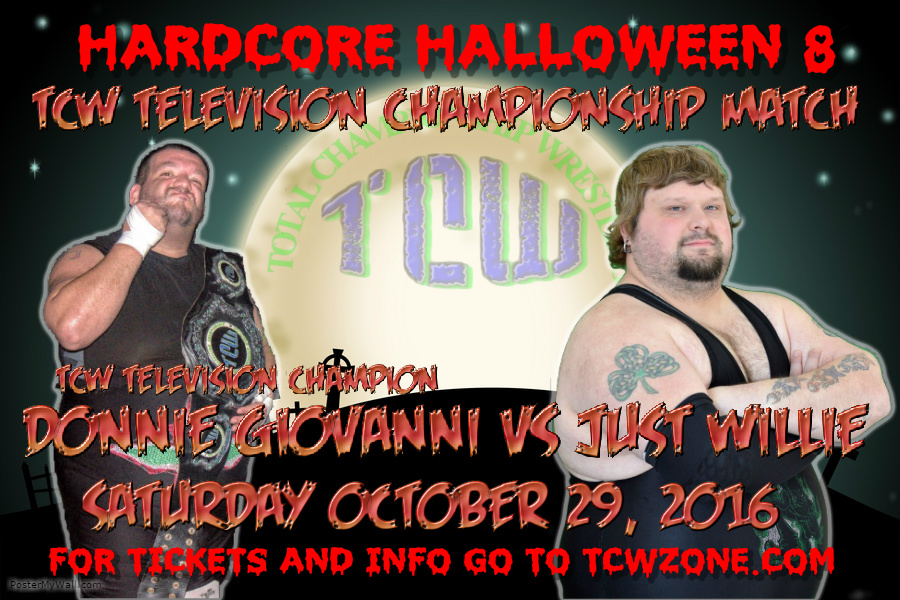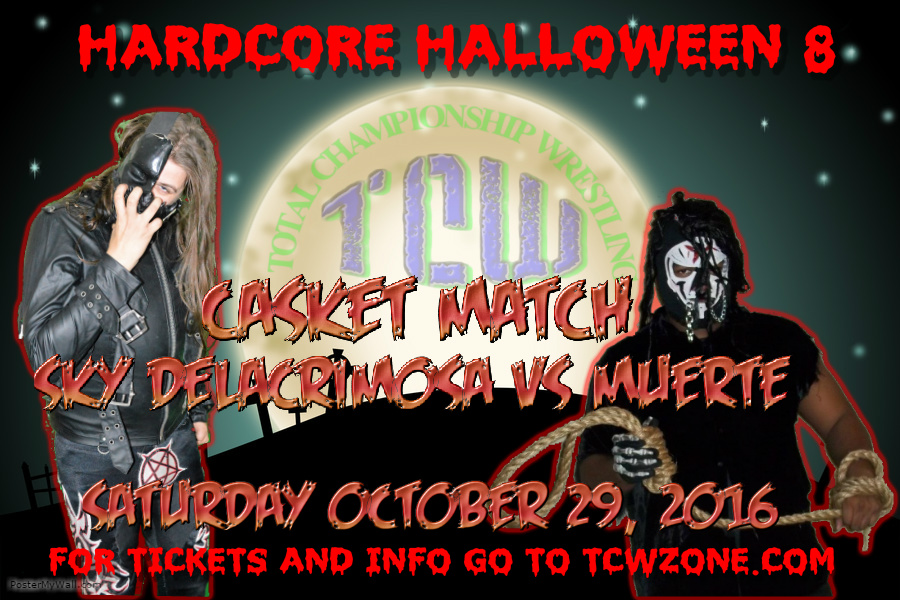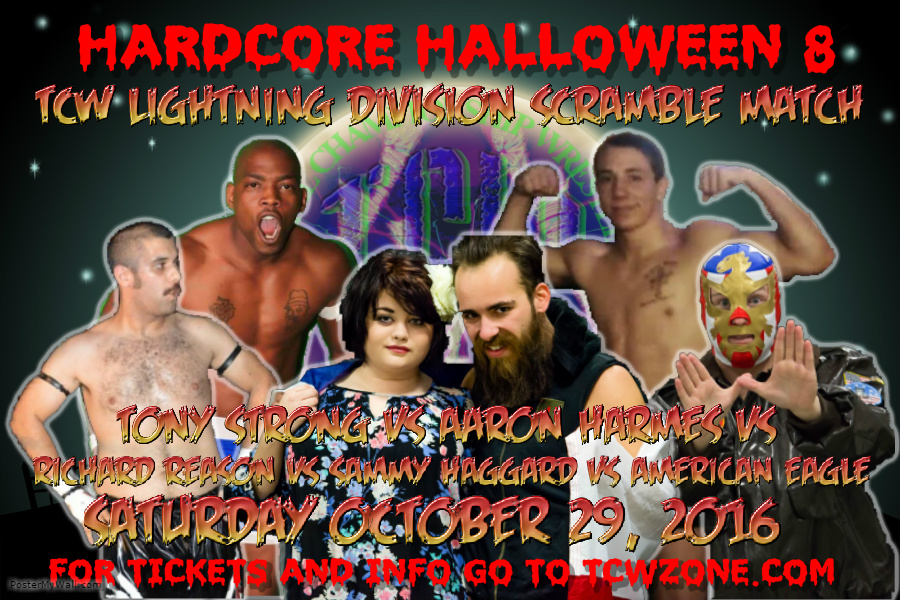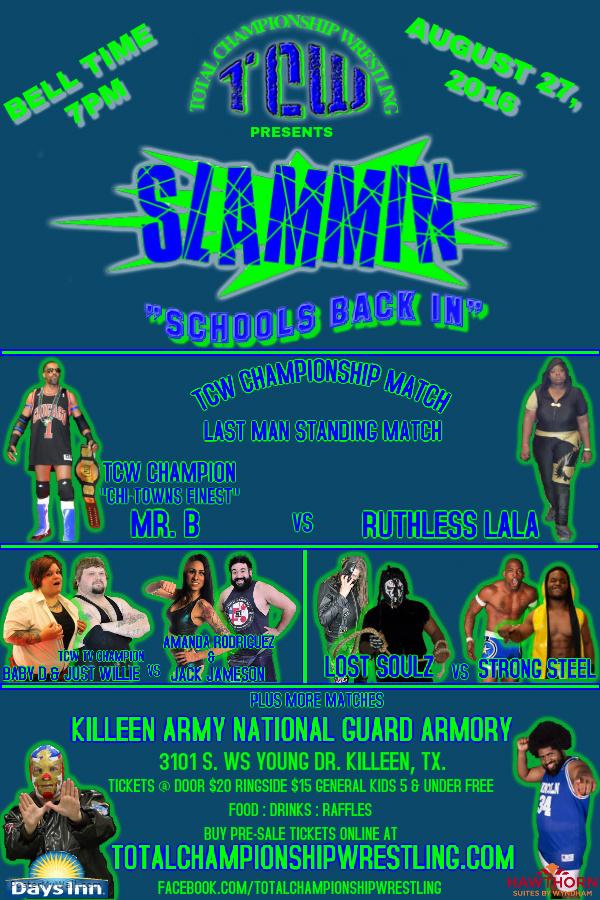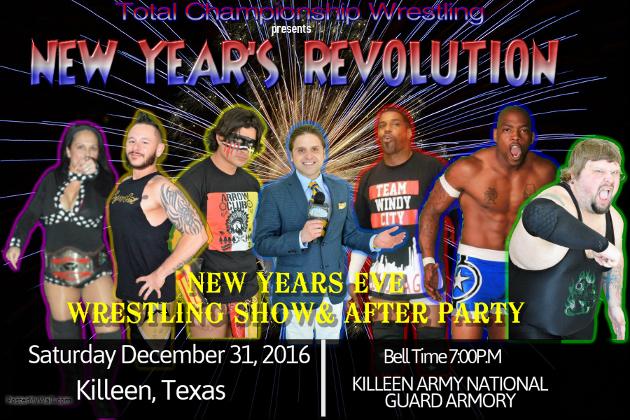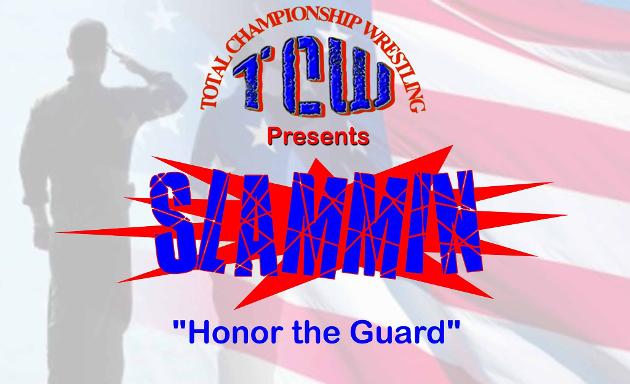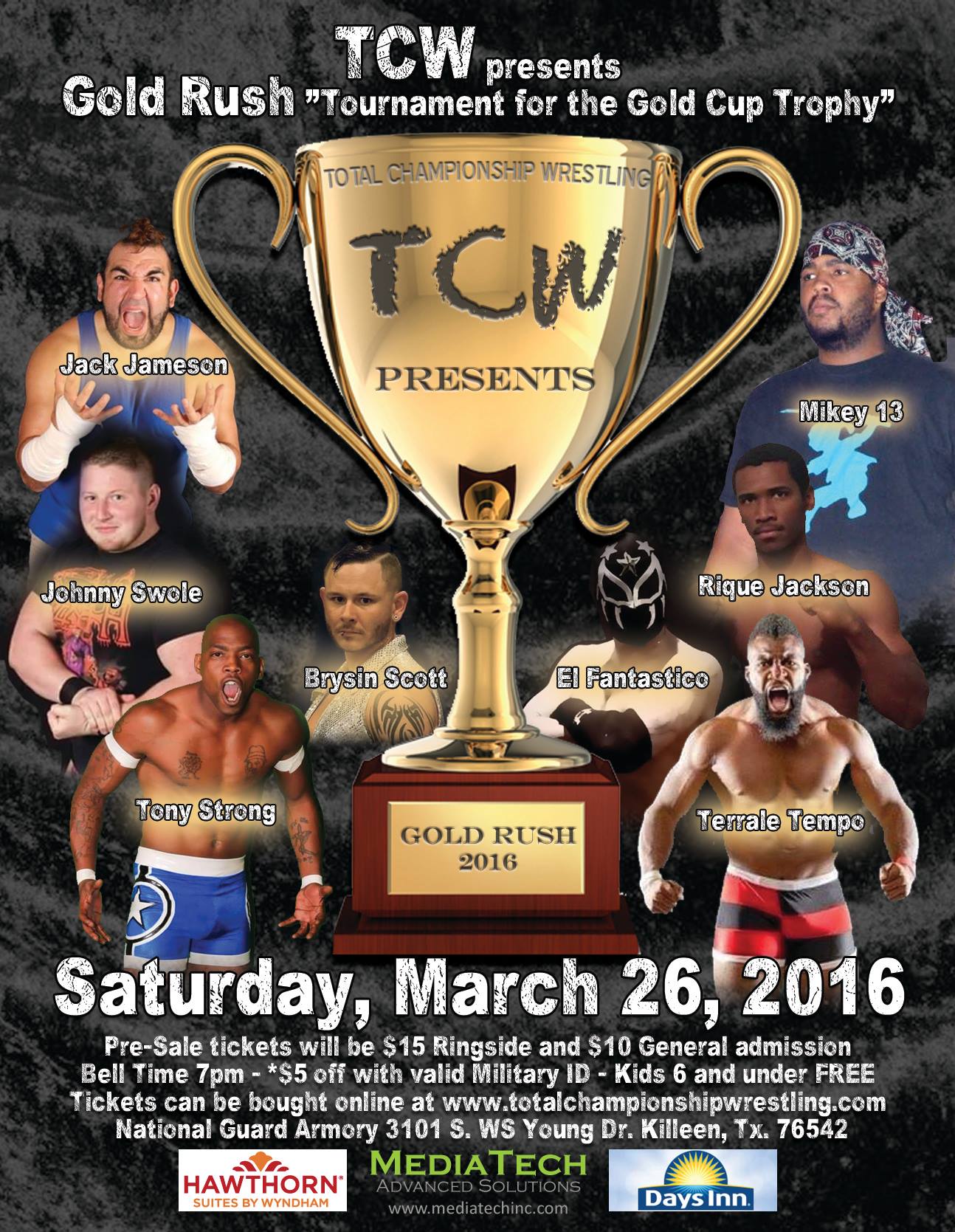 After TCW Naughty or Nice show, there was a lot
of things that happened. Two friends fall apart over TCW Heavyweight Championship. A champion jumps the #1 contender for his title. New #1 contenders for Heavyweight and Woman's Titles crowned. So now as we head on the road to Wrestle Warz 6 in April things are happening and taking shape. First stop is RESOLUTION
January 16, 2016 at the Texas National Guard Armory in Killeen, Tx.
This show is loaded with action, with a early start time of 7pm.
Zach Bradly returns to TCW after over a year way from the TCW ring. Zach Bradly is a former TCW Entertainment Champion who has battle some of the top wrestlers in Texas. He will makes his return against a tough tough wres
tler by the name of Jay Howard from St. Louis. Jay Howard is apart of the Troy Athletic Club and is coming off a big battles with ROH star ACH and former ACW Heavyweight champion Ricky Starks. This match already has the making of being a match of the year.
Ruthless Lala has her sights on becoming more then just a 2 time TCW woman's champion, she wants more. After the naughty or nice show, Ruthless lala and Richard Reason got into a argument backstage as both want to become the TCW Television champion, and both feel like the other cost them the #1 contendership to the TCW TV title at naughty or nice. So TCW management has choose to put these two in a one on one match.
After a great 3 way match for the TCW Heavyweight championship, Tony Strong say's he is not done and wants to get another shot at the title, but Kenny Steel who is one half of Steel Money tag team, is now wanting single gold in TCW, and say's he knows he can beat Mr.B and become the New TCW Heavyweight Champion. So now both Tony Strong and Kenny Steel have a chance to show everyone that they should be next in line for a shot at TCW Heavyweight Champion Mr.B.
Rey Ortiz will battle the returning former TCW Television Champion Brysin Scott. Brysin Scott who seems to like to do things his way and take time off when he likes, choose not to show up to Naughty or Nice to face Zach Taylor because he said he only wrestles sizable opponents. So now we will see if he shows up as he faces the man known as Rey Ortiz.
Current TCW Television Champion Kyle Hawk will be tested as he steps in the ring with one of TCW up and comers Jay Williams. Kyle Hawk turn his back on the fans and the U.S. Army. At Naughty or nice he attacked the new #1 contender for his title Donnie Giovanni after Donnie won his match. He later that night retained his title against Bolt Brady due to Donnie Giovanni attacking Kyle during the match, to win by DQ. Jay Williams looks to take the title from Kyle Hawk.
Friends and Tag team partners, Johnny Axxle and Mr.B will battle over the TCW Heavyweight Championship belt. Johnny feels he should be the #1 contender since he never got his rematch after losing the TCW Heavyweight championship to the American Eagle. Johnny Axxle was put in a 3 way match for #1 contendership against Johnny Swole and Killah Kash, who end up winning. This did not sit well with Johnny Axxle, so he attacked his partner and current TCW Heavyweight Champion Mr.B with a chair. Mr.B choose to put his belt on the line at RESOLUTION against Johnny Axxle to give him his rematch but to pay back for the attack.
The current TCW Tag Team Champions Lost Soulz will put their belts on the line againt the Troy Athletic Club. The Lost Soulz manager sexy but evil Diamantina is out to prove she has the most dominate Tag Team in TCW or Texas.
Also in action is the TCW Beast Johnny Swole
So get your tickets Now. Front row seats are limited. Pre-sale tickets are $15 Ringside, $10 General admission. At the Door it's $20 Ringside and $15 General admission.
If your needing a room, check in at the official hotel of TCW, Days Inn or Hawthorn Suites by Wyndham. Both are close to venue. Just call Melody Bryant at (254)634-7795 and ask for TCW discount.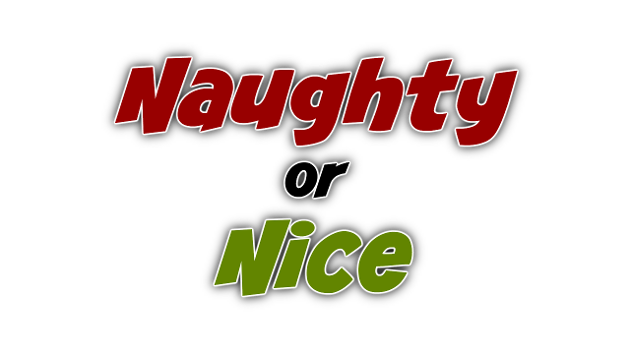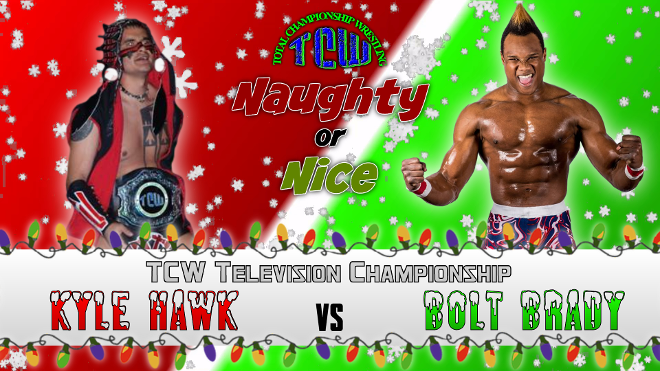 Please note: Tickets will only be sold online and at the door. Reserved Chair tickets purchased online guarantee you the best seat in the house and no waiting in line - you're the first to enter!

There will no longer be a shipping charge for tickets purchased online, due to the fact that TCW will not ship tickets to you. TCW ask that you print out your receipt and bring it with you as well as an valid ID when you come to the show. Your tickets will be waiting for you there! Tickets are available at the door.
===============================================================
TCW EVENT CALENDAR
2/3/18 5pm - The Rumble in Bellmead - Bellmead Civic Center, Bellmead, Tx
2/24/18 5pm - Gold Rush Tournament 3 - Killeen National Guard Armory, Killeen, Tx.
3/24/18 6pm - SLAMMIN 13 (tv taping) - Killeen National Guard Armory, Killeen, Tx.
Apr. TBA
6/26/18 6pm - WRESTLE WARZ 10 - Killeen National Guard Armory, Killeen, Tx.
6/22 5pm - Slammin 14 - Killeen Power Sports(**) Killeen Tx.

6/23 5:30pm - Slammin 7 - National Guard Armory Killeen Tx.

7/21 6pm - Xtreme Heat - Tx. Heat Wave Show Austin Tx.

8/4 - 8/5 Bell County Comic-Con Belton Tx.(Photo & Autograph session)

8/25 6pm - Slammin 8 - National Guard Armory Killeen Tx.

9/01 7pm - Bellmead Civic Center Bellmead, Tx.

9/22 7pm - Slammin 9 - National Guard Armory Killeen Tx.
10/20 6pm - Rock & Wrestling Benefit show - Waterhole Saloon(**) Del Valle, Tx.

10/27 6pm - HH10 National Guard Armory Killeen Tx.

11/17 7pm - National Guard Armory Killeen Tx.

12/29 7pm - National Guard Armory Killeen Tx.

(**)= Free Show
Stay tune more show dates are being added